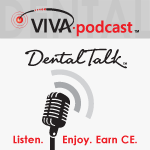 Series: SDI
Guest: Dr. Les Rykiss
CE Credits: 0.25 CEU
Release Date: 8/19/2019
Dental podcast hosted by Dr. Phil Klein: This Viva Podcast will discuss dental composites and how to choose the right restorative material for your practice. Our guest is Dr. Les Rykiss, a Winnipeg native, who has been practicing dentistry since 1990 at Linden Market Dental Centre. He lectures internationally on laser dentistry and cosmetic dentistry and writes extensively on both topics.
Please
Log in
to take exam and earn CE credit.
Dental Composites - So Many to Choose From; Too Little Drawer Space!
8/19/2019 - CE Credits: 0.25 CEU
(
Take Exam
)
View All Episodes from this Series »